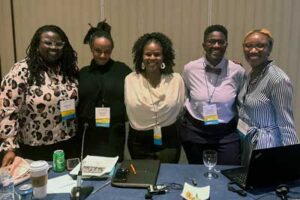 I am thrilled and humbled to share about my recent collaborations with Dr. Sirry Alang, which was born out of our shared passion for health equity and social determinants of health. It all started during my first year in the Ph.D. program when I noticed Dr. Alang's work kept appearing in my scoping review. Her insights into health equity and social determinants of health amazed me. I was encouraged to email her by my advisors and was delighted that I did! After our initial Zoom meeting, we exchanged contact information and agreed to stay in touch. I only hoped to meet her in person one day! During the 2022 AcademyHealth annual research meeting, I had the privilege of meeting Dr. Alang and was blown away by her profound insights. It was an extraordinary experience to put a person with a name, face, and voice that I had grown to admire and respect.
On September 26, 2023, Dr. Sirry Alang, Dr. Chelsey Carter, and I co-authored our first manuscript together, Psychological Distress and Life Satisfaction among Black working adults in the U.S. during the COVID-
19 pandemic.  A week later, on October 3, 2023, Drs. Sirry Alang, Chelsey Carter, Rawha Haile, and I presented a public health panel session on "Centering Critical and Experiential Black Knowledge Traditions in Population Health Research" at the 2023 Interdisciplinary Association for Population Health Science in Baltimore, MD! We are already discussing our next collaborative project that will continue the work from the 2023 Fall IAPHS conference! Working with Dr. Alang has been an incredible learning experience, and I'm excited to see where our partnership takes us next. Together, I believe we can make meaningful contributions that will help to improve health equity for all. 
Attending professional conferences is crucial for PhD students because it allows us to present our research work and get feedback from other researchers in their field. It also offers a chance to network with other professionals and learn about the latest advancements and trends in their area of study.
Additionally, attending conferences can help students develop their communication and presentation skills, which are essential for future career prospects. For me, conferences have been a great way to gain inspiration, motivation, and insights from other researchers, which has helped me to broaden my perspectives and improve my own research work. Overall, attending AcademyHealth in 2022, which was facilitated by the Hillman Scholar in Nursing Innovation program and funded by the Rita and Alex Foundation, was a catalyst for my academic and professional development.
Alang, S. M., Harris, L. K., & Carter, C. R. (2023). Psychological distress and life satisfaction among black working adults in the U.S. during the COVID-19 pandemic. SSM – Mental Health, 4, 100267. doi: https://doi.org/10.1016/j.ssmmh.2023.100267