Dr. Kristen Choi is currently an assistant professor at the UCLA School of Nursing, and a Hillman Scholar alumna. Read her firsthand reflection on the American Association of Colleges of Nursing Doctoral Education Conference here:
Future literacy is defined as an approach to problem solving that uses the future to innovate the present. If we only use the past to approach the future, we may miss key opportunities. Anticipating the future and pathways to future progress was the theme of the American Association of Colleges of Nursing (AACN) Doctoral Education Conference in Naples, Florida this year. Each year, the AACN holds a conference dedicated entirely to doctoral nursing education, including both DNP and PhD degrees. The 2020 conference had slightly over 800 attendees with a theme of, "Breaking Barriers, Building Bridges: Engineering Pathways for the Future." We discussed the future of doctoral nursing education and imagined how our future selves in 2030 or beyond might look at doctoral nursing education in 2020—and what we might do differently now to better anticipate the future.
A key issue that arose during the conference is the future of PhD nursing education. There is an ongoing need to increase the number of nurse scientists, leaders, and innovators with PhDs who are committed to solving healthcare challenges. This need has become particularly pronounced in recent years as interest in DNP programs has grown without corresponding growth in PhD program interest. As nursing leaders who direct the Hillman Scholars Program in Nursing Innovation, Dr. Nancy Hodgson (Penn) and Dr. Cheryl Jones (UNC) presented data and lessons learned on the Hillman Scholars Program.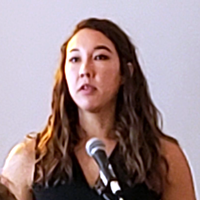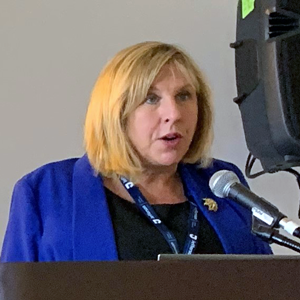 I joined them to share an alumni perspective on the program. Key aspects of the Hillman Scholars Program that innovate beyond what one might typically see in a BSN-PhD program are: the integrated BSN-PhD curriculum, the clinical fellowship, and the community of scholars. This model for developing PhD-prepared nurse leaders is unique, and as such, there was strong interest in learning about the program at the doctoral education conference. Our discussion generated important questions about BSN-PhD education, including how to support young nurses in their PhD education, how to form practice partnerships, and how to inspire nurse scientist careers.
The AACN Doctoral Education Conference inspired me to reflect on the future of doctoral nursing education, but also my own future literacy as a nurse scientist. We participated in a crowdsourcing activity to answer the question:
If the AACN were ten times bolder, how would we change doctoral nursing education now in anticipation for the future?
This photo shows some of the responses from the conference attendees: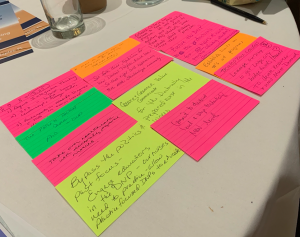 It made me think of a parallel question for myself, as a Hillman Scholar:
If the Hillman Scholars were ten times bolder, how would we change our scholarship now in anticipation for the future?
I hope to continue to reflect on future literacy and take bold steps as a nurse scientist now to solve healthcare challenges of the future. Check out the conference's Twitter hashtag for live tweeting of key conference sessions and more detailed commentary on these ideas: #AACNdoc20.