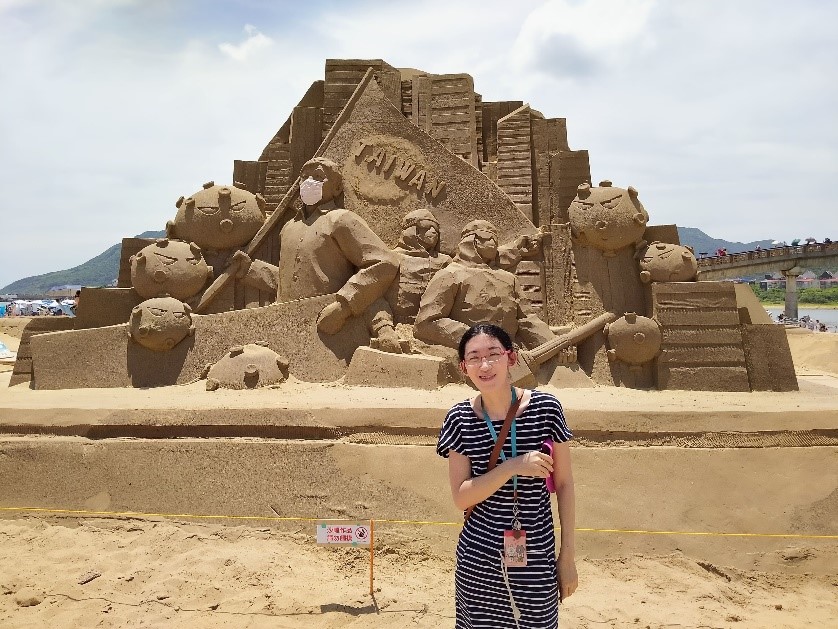 by (Xiao) Linda Kang, PhD, RN (PENN '17)
When we moved our family from the United States to Taiwan almost three years ago, little did we know that there would be a global pandemic. Even more unexpected would be the fact that Taiwan would have one of the best responses to the pandemic. From April to December of 2020, Taiwan held the world's record for the longest stretch without any local infections or community spread. As of February 22, 2021, there are 942 confirmed cases with just nine deaths. These numbers are remarkable, considering Taiwan did not have a lock-down and had around the same population as Australia (28,900 cases, 900 deaths as of February 22), but with a much smaller landmass. After looking back in history and taking various factors into account, Taiwan's excellent response to the pandemic may not be so surprising after all.
Taiwan's former vice president, Chen Chien-Jen, who is also an epidemiologist, says that the three key areas to Taiwan's success with the COVID-19 pandemic include: "Prudent attitude in dealing with COVID-19, prompt actions in responding to different situations, and forward planning before a crisis." During this time in Taiwan, in my work as a nurse researcher writing about nurses' experience on the frontlines, I'm inclined to agree with Mr. Chen's assessment.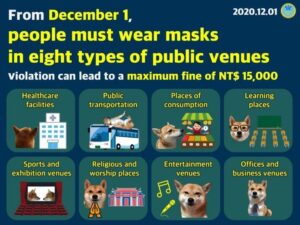 In the area of prudent attitudes, Taiwan implemented almost immediate border control after hearing of a virus similar to severe acute respiratory syndrome (SARS) coming out of Wuhan. Much like in stroke care, where "time is brain," an immediate intervention for the patient is crucial. Taiwan started quarantining incoming passengers from the mainland (Taiwan is only around 100 miles away from mainland China) as early as December 31, 2019. It also initiated research and development of testing kits quickly and utilized contact tracing right away with people who screened as probable cases for the virus, and a required quarantine period was established for passengers arriving from abroad. Taiwan's Ministry of Health and Welfare's (MOHW) website lists this timely border control and smart community transmission prevention strategies as key success factors of their response to the COVID-19 pandemic.
In terms of planning before a crisis, most of the nurses I have talked to, who were my co-authors on our recent articles on nursing strategies and outcomes for COVID-19 (linked below),  have attributed part of the current pandemic response to lessons Taiwan has learned from SARS. According to the World Health Organization's (WHO) data archive, there were 671 cumulative SARS cases on the island, with 84 deaths in 2003. The MOHW also lists SARS experience as one of the factors of success.
After the SARS outbreak in 2003, Taiwan's central government improved its collaboration with the private section, reviewed regulations, adjusted its organizations and operations to enhance preparedness for pandemics. In 2005, the National Health Command Center (NHCC) was established and has a complete epidemic prevention system, including the Central Epidemic Command Center (CECC), the Biological Pathogen Disaster Command Center, the Counter-Bioterrorism Command Center, and the Central Medical Emergency Operations Center. The Minister of Health and Welfare, currently Dr. Chen Shih-Chung, takes on the role of the commander of the NHCC when it gets upgraded as a level 1 organization. The NHCC has set standard operating procedures (SOP) in place for various institutions for events such as epidemics.
The MOHW also credits the CECC and transparency with information as factors to their pandemic responses. On the ground, the people get to see the Minister of Health's press conferences broadcasted all over the island and online every day during the height of the COVID-19 period in the spring of 2020. Social media channels and the 1922 Communicable Disease Reporting and Consultation hotline have helped to keep the public informed and know where to go for information related to the pandemic. The toll-free 1922 number was established after SARS and has been put to use widely by the population for COVID-19. I have referred friends who didn't realize that it was available to the hotline. Good etiquette from citizens is another key factor listed by the MOHW, so this cooperation from the population has led to the widespread use of face masks and the practice of hand hygiene. Perhaps with the transparency of information from the government and previous SARS experience, the Taiwanese people are very willing to cooperate in following guidelines from the NHCC.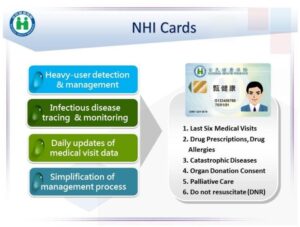 Prompt actions in responding to different situations are enabled by Taiwan's efficient national health insurance (NHI) system. In 1995, Taiwan moved to a single-payer system and digitalized the whole health care system soon afterward. Taiwan also utilizes a health insurance card for each person with an IC chip embedded that allows access to the patient's recent medical data by health care systems. The integration of technology with the NHI insurance card has amazed me at the efficiency this creates. We had sticker shock the first time our son had to go to the emergency room, and our co-payment was only $20 US dollars. I kept on wondering if they were missing a few zeroes and asked to make sure this was not the case.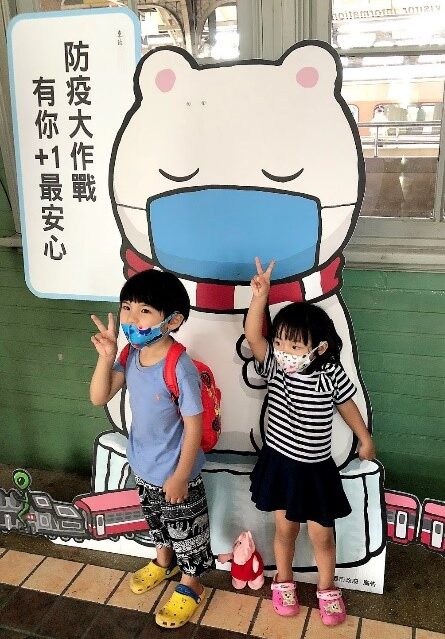 In addition, good resource allocation has also been credited as contributing to the effectiveness of the pandemic response. The production and distribution of medical supplies, such as face masks, personal protection equipment, medical alcohol, had been closely monitored by the government, and face mask production was increased, with the export of face masks being suspended during the height of the pandemic (this was later relaxed after production increased, I was able to mail back face masks to family and friends in America in the summer). The NHI card was also used for everyone to order a regulated amount of face masks, and the card would also alert health care personnel if the person had traveled abroad recently. Local pharmacies and later convenience stores all over the island were contracted as distributors of face masks and other pandemic prevention supplies.
In summary, the public health infrastructure in Taiwan was already built before the COVID-19 pandemic. Just as it is ineffective to be building or upgrading a storm shelter during the middle of a tornado, a public health infrastructure should be in place before a pandemic. During the SARS epidemic, Taiwan lacked a plan and SOPs, but with plans in place, the NHCC can act as the traffic controller that brings together all the key factors for success. Similar to having drills for people to know what the storm shelters' procedures are, Taiwan also conducts regular disease outbreak drills, and nurses are trained in how to put on PPE during orientation. The technological capabilities also enable Taiwan's disease surveillance system to shine.
As Sun Tzu says in the Art of War, "Every battle is won before it is ever fought." Taiwan, with timely border control, smart community transmission prevention strategies, information transparency, good resource allocation, a central epidemic command center, advanced medical and telecommunication technology, cooperation of its population, and lessons learned from SARS, may have won the battle before it was fought.
Our studies on COVID-19 from nursing perspective:
Chen, R., Sun, C., Chen, J. J., Jen, H. J., Kang, X. L., Kao, C. C., & Chou, K. R. (2020). A Large‐Scale Survey on Trauma, Burnout, and Posttraumatic Growth among Nurses during the COVID‐19 Pandemic. International Journal of Mental Health Nursing.
Liu, S. Y., Kang, X. L., Wang, C. H., Chu, H., Jen, H. J., Lai, H. J., … & Chou, K. R. (2020). . Protection procedures and preventions against the spread of coronavirus disease 2019 in healthcare settings for nursing personnel: Lessons from Taiwan. Australian Critical Care. https://www.ncbi.nlm.nih.gov/pmc/articles/PMC7566791/ 
References: