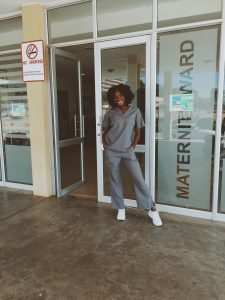 This summer, Hillman Scholar Ebahi Ikharo became the first graduate nursing student accepted into UNC – Chapel Hill's IntraHealth Summer Fellows Program. Her fellowship gave her the opportunity to travel to Namibia for 3 weeks for the Nursing Now Namibia Campaign. Her main task was to collect data at the maternity wards of 5 hospitals and use it to create a tool that would allow these hospitals to assess whether they are complying with standards put forth by the Ministry of Health.
She spent 3 weeks in Namibia, and then the rest of the summer entering data into the tool she helped create.  That data was then used to produce a report that was presented to the ministry of health about where those hospitals stood with regard to hospital standards, in addition to recommendations on future interventions to implement before the next set of evaluations.  In addition to the data collection on quality of care, Ebahi had the chance to interview nurses in Namibia about burnout and will publish her findings online later this month.
Ikharo's research is focused on understanding the effects of the biological, psychosocial, and environmental frameworks that affect the cardiovascular health of black women living in the US and in Sub-Saharan Africa. Her time as an IntraHealth fellow offered her exposure to people and insights that can help with her work moving forward.  "Research in the global health context requires communication, interpersonal relationships, budgeting, time management and coordination skills, and an understanding of policy, politics, and NGOs," she explained. "My time in Namibia exposed me to potential barriers that can arise when trying to implement interventions that are targeting major global health issues and crises."
As a Nigerian, Gambian, and Senegalese woman, she also enjoyed the cultural education from simply spending time in Namibia. "It's amazing to learn more about how alike many cultures are across the different countries," she said, "and of course, how the differences make each country, tribe, and culture unique."  She made some friends at the IntraHealth headquarters who showed her around the capital and introduced her to foods and culture– while she wasn't busy collecting data, of course.
Experiences like this IntraHealth Summer Fellows Program are so important to enhance the education and experiences of nurse researchers, and we are grateful that Ebahi was able to share her experience with us. The work she did this summer will undoubtably incite positive change in the quality of obstetric and maternity care in Namibia, saving many lives along the way.